Freddie is swimming
Printed by Permission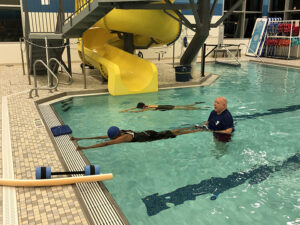 Monitor St. Paul
Posted on 20 March 2020 by Tesha Christensen.
By Carol Mahnke
The hardest part of learning to swim is putting your face in the water — especially if you're 77 years old and have never learned to swim.
But Freddie Lissimore has the courage and determination to do it. She decided she wanted to swim and so she is.
She has an extraordinary teacher in Mitchell Lallier who offered lessons after Lissimore wished aloud that she could swim.
"I always wanted to learn to swim before I was 60," Lissimore said, "but somebody has to push me," said Lissimore.
And Lallier was right there ready to push.
Lallier teaches some classes at the Midway YMCA. He was a junior high physical education teacher, but has taught swimming for some 50 years. Currently he runs S & L Team Cleaners based in the nearby Griggs Building.
Lissimore has had a variety of jobs since she started doing piece work, sewing sleeves, for Twin Cities clothing manufacturers after she graduated from the former Mechanic Arts High School in St. Paul. Much of the time she has cared for children as a daycare center teacher or as a nanny.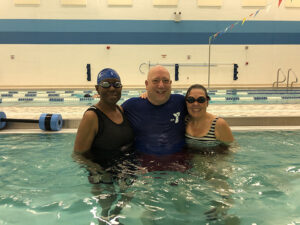 She was born in Valdosta, Ga. Her family moved to the Twin Cities when she was 11 years old.
"I'd always watch Olympic swimming and tell myself one day I'd like to do that, too," Lissimore said. "One day I'll do it."
Tim Hurley, who has been honing his skill at the front crawl with Lallier's help, said, "kids just jump into the water." They don't seem to have the depth perception adults have.
But seniors have to be encouraged. Fear of drowning, built up over decades, hovers constantly.
Lallier provides a sense of safety and continual confidence in each student's ability to swim. And Lissimore recently swam the back crawl for 50 yards.
He kept saying, 'I gotcha, I gotcha'," Lissimore said of her first efforts.
"For an older person to take the chance, they have to have the desire and they have to trust," Lallier said.
"Once you feel safety," Lallier added, "you push yourself to do things."
Hurley said swimming has changed his life, helping him recover from a disability.
Ruthann Ryberg says walking in the current pool has helped her gain strength after a serious traffic accident. She, too, is taking lessons from Lallier and thinks Lissimore's progress has been wonderful.
Many seniors find the YMCA pools are good for recovery from a variety of physical complaints.
"It's an invaluable resource for the community," Hurley said.
Lissimore now swims under water. Hurley gave her his extra goggles and she bought a swim cap.
"You've gotten past your fear," Lallier tells her, "And you've brought others in.
Lallier volunteered to teach Lissimore, and now he has other students including Hurley and Ryberg as well as David, a man from Ethiopia and Luz, a woman from Mexico.